CR25 5 Port Universal Charger with Amazon.com Alexa Voice Service and Bluetooth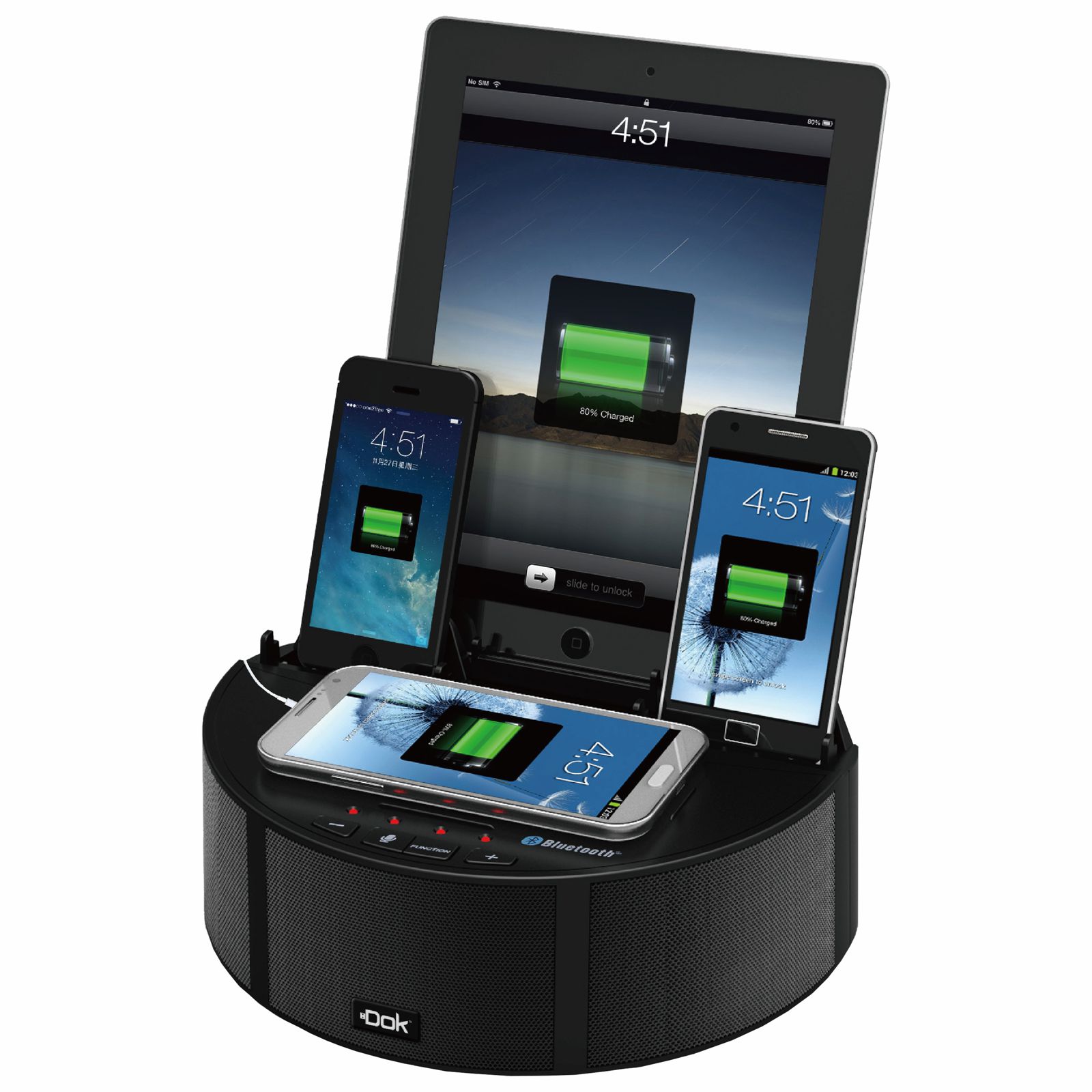 HighRes Photos
This DOK Universal Charger is where convenience meets technology and makes life even easier than ever before. Unless you've recently landed on earth you're likely aware of the Amazon.com Echo which hosts the Alexa Voice Service (AVS). This is an amazing service that connects potentially hundreds of smart device applications to your voice commands. Imagine just waking or working around the house, press one button and calmly speak "Alexa, play classical music." And in seconds your unit is playing classical music. But it doesn't stop there! Just a handful of examples include: ask for the weather or time anywhere in the world, connect Alexa to your smart device radio stations, music channels, news, power outlets, thermostat, place orders with capable services and the list goes on. Hundreds of companies are modifying their applications to be compatible with the AVS and you'll be amazed at the possibilities!
As proud as we are of incorporating Alexa into our DOK unit, we are just as proud at making your life easier by providing you with a central charging station where you can charge up to five devices at the same time. You can also listen to one of your devices while charging all five. Charge phones, tablets, pads and more. Most anything you can normally charge with a USB cable connected to your computer will also charge when connected to our DOK Universal Chargers. Each charger has traditional USB slots you'd find on any computer or charging adaptor.
Even more, we've added Bluetooth capability to connect your smart devices wirelessly to get even more out of our chargers. From a distance you can play your phone's music on the high quality speaker system and fill your room with music.
ORGANIZE / Charge any 5 portable media devices including phones, tablets, pads and more, simultaneously, in one location.
PLAY / Display and listen to one device on DOK's speaker system while charging up to 5 devices.
CHARGE / SCD (Smart Current Detection) adjusts the current flow to ensure proper charging to each device.
SPEAKER SYSTEM / Plays a device through its speaker while charging.
BLUETOOTH / Easy Answer Phone Calls Hands-Free.
Alexa Voice Service by Amazon.com to Interact with your Favorite Apps by Voice Command
Bluetooth Capable
4W Speaker System
Universal Cradle can Accommodate Most any Brand Personal Device of Smart Phones, Tablets, Pads, MP3 players and more
Cradle up to 3 Devices
Charge up to 5 Devices Simultaneously
Display and Listen to Any Device While Charging All Devices
Surge Protection Built-In
Tidy-Cable Organizer
Power On/Off Switch and Indicator Light
AUX Cable (3.5mm x 24")
4 Ports for Charging Phones (5V DC/1A), 1 Port for Tablets and Phones (5V DC/2.1A)
AC Adaptor: 110V/50Hz~AC 240V/60Hz (UL Approved)
Package Contents:
Manual/User Guide
Warranty card
Adaptor or power cord
19" 5.5mm to 5.5mm Cable
10" USB Micro cable (5)
Cradle (3)
Cradle insert (3)
Bar Codes
Tariff Code: 8527.91.6080
UPC: 852929004764
GTIN14: 10852929004761

This product may be covered by one or more U.S. patents or pending patent applications. Click here for details.